I KNOW IT'S BEEN A WHILE BUT I HAVE BEEN TAKING TIME OUT TO ORGANIZE A VERY HONORABLE CAUSE! PLEASE TAKE SOME TIME OUT TO READ ALL ABOUT IT!




The Problem
It would take a day to walk in some of these mother's shoes I know, and surely I promise "they" will give those shoes back. "They" say the economy is in crisis, I see these celebrities getting divorces, winning lawsuits, and coming out with millions of dollars. "They" are constantly cutting checks to foster parents who don't even have to work a full time jobs or a job at all to secure a stable home like regular single parents (Tax Paying Americans) do who have to work 2 or 3 jobs to take care of their family.There are more children of color in the foster care system than in the general population. >That sound like modern day underground selling slaves to me starting with the kids. "They" also say African Americans are incarcerated more often than whites. >That's because they are to busy releasing their own kind off of death row, while we are secretly still being lynched and brainwashed against each other. Here's a unforgettable fact for you I found to be interesting: Maltreatment Rates- There are no statistically differences in overall maltreatment rates between African-American and Caucasian according to 3 national incidence studies. After controlling for such factors as income level, unemployment and location (urban or rural) African- American communities actually have lower rates of child maltreatment than Caucasian communities. Additionally, both public or private hospitals have been found to over report abuse and neglect upon African Americans while they under report maltreatment among Caucasian.
Plan of Action
Bring awareness to the Nancy Schaefer Movement. She was assassinated her and her husband for standing up for the parents who are genuinely trying and struggling to survive and keep their families together in these days and times. Often times these things are swept under the carpet. The system fails to comply with what we want and need as stable parents and neglects to see that their cycle will and can be broken with the right voices! These children and families don't deserve the torment they are willing to take people through for the sake of keeping their business going. Whether it be the demanding fact that they want to administer your child/children with these pharmaceutical medications because of "ADHD" diagnoses and other factors but what they don't tell you is how it causes side effects and the statistics of the children who've grown into depending on the medication or getting addicted to drugs. I'd check the elements of these medications because this medication can cause numerous nerve problems. It's wrong and not humane for the system to not give a caring mother or father a choice to not administer the medication, it is even worse than having someone tie you down and shoot you up with dope. Get voices together, find other solutions, and wave the right to have responsible parents who haven't had any conflicts emotionally to receive the financial assistance they are just giving away to foster parents, medical doctors, and hospitals just because they want to make some money. THIS IS ALSO KNOWN AS ( E.S.S.A.) WE ARE JOINING TOGETHER TO ADVOCATE ON BEHALF OF THOSE OF YOU, WHO'VE HAD TO FIGHT THE SYSTEM FOR THE SAKE OF GETTING YOUR CHILDREN BACK IN YOUR HOME, OR IN A STABLE HOME DUE TO HOMELESSNESS, NOT MAKING ENOUGH INCOME WITH 1 SINGLE JOB NOT A CAREER, AND OR STILL SUFFERING THE PAST ABUSE FROM YOUR EX-MATE BY LITERALLY "PAYING FOR IT" BE AWARE THAT THE CYCLE OF THIS SYSTEM HAS BEEN SET UP AND DESIGNED TO KEEP US DOWN, HOLD US DOWN, MISINFORM US, CATER TO THEM, ONLY TO SET US UP FOR THE SAME FAILURE AND CONTINUE THE ONGOING PROCESS BY SETTLING TO ADHERE TO THE SYSTEM'S CYCLE. IT IS VERY IMPORTANT THAT WE MOTIVATE AND EDUCATE "OURSELVES" FOR THE SAKE OF OUR CHILDREN'S FUTURE. OF COURSE, THEY AREN'T WILLING TO GIVE US "EDUCATED" INFORMATION OR PROPERLY EQUIP US TO MOVE ON TO THE NEXT LEVEL….AS THEY "NEED" US TO KEEP THEIR BUSINESS GOING
!
PLEASE FOLLOW THE LINKS AND SHARE FOR MORE INFO ON HOW YOU CAN BE A VOICE BY BRINGING AWARENESS AND SIMPLY SHOWING YOUR SUPPORT BY DONATING TO OUR CAUSE.
http://youtu.be/9jv59jEHGkM
http://youtu.be/IEktKe9c014
ESSA NEEDS TO BRING AWARENESS TO OUR CAMPAIGN YOU CAN SHOW YOUR SUPPORT BY ORDERING ONE OF OUR PERSONALIZED SHIRTS CREATED WITH ANGEL WINGS ON THE BACK TO EMBRACE THIS CAUSE WITH GOD'S LOVE SHOWING THAT FAMILIES SHOULD BE TOGETHER!!!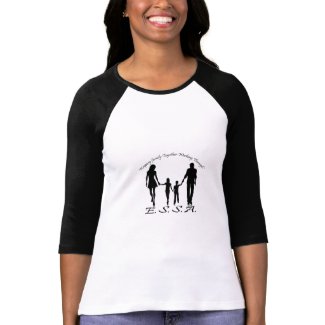 KEEPING FAMILIES TOGETHER WORKING THROUGH ESSA! TEE SHIRTS
by
DazzlingDomes
Design tshirt
designs at zazzle.com.
http://www.zazzle.com/keeping_families_together_working_through_essa-235175929777878451